Choose your course from the links below...

Borzoi Central: an internet portal for Borzoi fanciers!
A collection of links that relate to Borzoi, including health, breeding and genetics, a breeders' linkexchange, club listings, rescue listings, historical articles and more!
There are also several interactive areas including a message board, e-cards, event calendar, judge rating database and the popular online Borzoi pedigree database.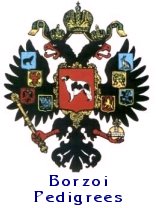 Gryffyn's Aeyrie Borzoi and Silken Windhounds: internet showcase for North Texas-based breeder of Borzoi and Silken Windhounds. Information on upcoming litters and available dogs / puppies, as well as background on the breeders themselves and the multi-titled dogs in residence.
View our webdesigning portfolio. Available for design or web maintenance services.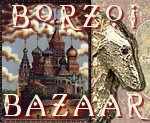 Find a variety of Borzoi-themed items at the Borzoi Bazaar!